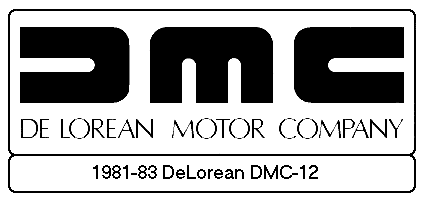 My wife and I purchased a 1981 De Lorean DMC-12 in the Spring of 1999. When we bought it, it had only 3500 miles on it. (Update: 20,000 as of October 3rd, 2003). For those who care, it's VIN 6820 with a November 1981 build date. It was, and still is, a great original condition car. Our new-to-us car only needed some very minor repairs such as new struts for the luggage compartment and rear engine louver, and a new radio antenna, and repair of a minor crack in the rear window louver.
There were only about 8500 to 10,000 DeLoreans built between 1981 and 1983. All of them came from the factory in Stainless Steel only. Any painted DeLoreans were done later by the vehicle owner or by the dealer. For more facts on the DeLorean visit the links at the bottom of the page. Knut Grimsrud has written an excellent FAQ that is available on the DMC-News site.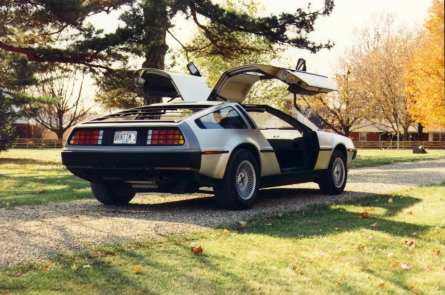 This section started off as just a place to list repairs and updates, but morphed into an almost blog or diary of at least that part of my life that impacted our car. The original section starts next.
To show that these cars are pretty darned reliable, even after 20 years or more since production, here is a list of everything I've done to ours:
1999
Oil change and other routine maintenance after purchase
Had the A/C charged up. The freon had leaked out over the years.
New tires. The original Goodyear NCTs were fine, but my wife was worried about 20 year old tires. So I bought a set of Yokohama AVS Intermediates. Great tires!
Did the recommended relay update and cleaned all the fuses.
New struts for the engine and luggage compartment
New fuel pump after I managed to run the car out of gas and burned out the old one.
Installed a new Kenwood KRC-3006 stereo and Infinity Kappa front speakers. Also added a CD changer since the Kenwood head unit had CD controls built-in. The KRC-3006 head unit was the last Kenwood with the shaft style controls (like the original DeLorean stereo) that included CD controls. It has since been discontinued. I was very happy to get one of these at it closely resembles the original stereo, but has much better sound and CD.
2000
Routine maintenance
Tried to repair the crack in the louver, but hurried the job and it cracked 6 months later
Installed a new fuel accumulator. The classic warm start problem.
2001
Installed a K&N air filter using Marty Maier's adapter kit
Installed an aluminum brace over the crack in the louver at the beginning of the season and just painted over the top without fully repairing it. Wanted to see how it held up first.
Routine maintenance
2002
New rear tires. The Yokos are great, but don't last a lot of miles.
Had the A/C charged up a bit while the car was in for inspections.
Self-bleeder kit for the cooling system and an overflow bottle.
Routine maintenance
Winter 2002/2003
Now we're getting into some heavy stuff. I decided that the car was old enough that it needed some things done to it as preventative maintenance. It still had only 17,000 miles on it at the end of the 2002 season, but combine that with the age of the car and it's time to do some preemptive work. This stuff was done between November of 2002 and March 2003 in time for the 2003 driving season.
Repaired the louver once and for all. Also installed a 3rd brake light in it.
Added lube to the steering rack and replaced the tie-rod ends. The steering had felt a little stiff and I decided to fix it.
Installed a rebuilt clutch master cylinder. The old one was leaking into the car.
All new brakes. Or at least rebuilds. I installed a rebuilt master cylinder from AutoZone, and Raybestos rebuilt calipers w/new pads all around from a local parts house. New rotors from PJ Grady (www.brakewarehouse.com is cheaper I have found out since). New stainless steel braided hoses bought from Marty Maier. I also had the vacuum booster rebuilt by a place in California for $125. The power brakes hadn't worked right in quite a while. I suspect that the rubber diaphragm in the booster had dried out and gone bad. The rotors were all a little glazed and the pads needed to be changed. Since the odds were good that all the hydraulic cylinders had probably gotten moisture in them over the years, and were probably rusted, I decided that a whole new system was in order.
New oil idiot-light sensor. It had been leaking slowly for a while, so time to fix it. Also a new oil gauge sending unit that will be more accurate and a new oil drain plug that uses a regular wrench rather than a pipe plug wrench.
Fuel filter, and a new fuel pump cover boot. While I was in there I installed Hervey's baffle and pickup assembly which should end all problems in the tank for a while.
And of course an oil change so I had fresh oil in the car for spring.
New battery
New Cooper Cobra GT Radial tires, one of the few choices if you want a matched set of tires now (Spring of 2004)
Winter 2003/2004 to 2009
In the fall of 2003 I was still out of work and our money reserves were getting thin. We even put the car up for sale, but only had a couple of inquiries. In the spring we didn't pass the required state safety inspection due to the parking brakes and reverse lights. So, the car was informally put into storage and not much got done with it beyond adding some Sta-bil and keeping the battery charged.
In the summer of 2004 I finally got a job! I started work as the Network Administrator for a casino out in West Wendover, Nevada at the state line. The only problem was that my work week was Tuesday through Saturday, and all the car clubs meet on Saturdays. Plus I stayed out at the casino in a hotel room three nights a week to save on travel costs.
I really wanted to get back into things with the car, so I started a project at work where I tracked calls and problems on Saturday, Sunday, and Monday. I found that I had more calls and more problems reported on Monday when I was off than I did on Saturday. It seemed like everyone was busy on weekends with our customers and waited until Monday when it was slower to call me. I tracked this information for months, then went to the managers. I was able to convince them since I had such good data and I was allowed to change my schedule to Monday through Friday.
Once that was accomplished, I spent a few weekends with my wife just enjoying the almost forgotten sensation of having two days off with my wife in a row. Then in the spring of 2009 I started working on the car again in preparation for the DeLorean Car Show - West in Las Vegas in September of 2009.
Since the car had been stored for quite a while, my first task was to get some fresh gas in it and get it running again. That done, I moved on to repairing the parking brakes and reverse lights so we could pass inspection. One set of pads, and a new switch later, and it was ready to pass. I then renewed the license and was allowed to keep our personalized DMC 12 license plate.
When the car was for sale a few years before I had pulled the updated stereo and a few other things hoping I could use them on a later DeLorean once we were back on our feet. We still had the same car, and we were back in shape now, so the equipment was all reinstalled.
Once DCS-09 is finished I will get back to installing all of the new parts I've been collecting. It's finally time to replace the whole 28 year old cooling system, and re-do the stiff clutch.
Things I will be tackling this coming winter and spring include:
I'll be installing new trailing arm bolts. I bought a set of the "Toby-TABs" way back when they were available.
Install a new slave cylinder, stainless steel braided clutch hose, new clutch, pressure plate, throw-out bearing, pilot bearing, and rear main seal. I replaced the leaking clutch master previously. But, the clutch pedal was and still is very stiff. I'm told that a stiff clutch on these cars is usually just lack of, or dried out, lubricant on the 20-year old parts, and if I'm going to split the tranny off from the motor to fix this, then the clutch gets replaced while I'm in there.
Change out the bulkhead steering bushing which has started to squeak slightly.
Whole new cooling system. I had some minor overheating problems in the summer of 2002 after moving to Utah. I found that most of it was caused by not bleeding the system properly so I added a self-bleeder. But, I got to thinking about the 110 deg plus temps in the desert out here and decided that 20 year old hoses were a bad thing. I also don't really like plastic tanks on radiators, at least not ones this old. So, I'm installing a new all metal radiator with increased capacity, all new hoses, new water pump since I'll be in there anyway to change hoses, a new otterstat switch, and a new thermostat. I'll also be changing out the plastic expansion tank for a metal one.
Tune-up. While I have the intake off for the cooling system work, I may as well put a new cap and rotor in, as well as wires and plugs. Also a new Accel coil, new silicone vacuum lines, and a new O2 sensor.
Well, the stuff for the past couple of years sounds like a lot, and it is, but most of it is just replacing parts that wear normally and/or go bad with age. We do have a 28 year old car, and I just want to replace all the stuff that ages. I'm doing a big batch of it all at once so it looks pretty major. But, none of it left me sitting along the road. I'm just changing most of it as a preventative.
If the job situation holds in this uncertain economy, then next year comes the good part: New springs (at least the front ones), along with new shocks and a few suspension bushings. This will be an upgrade, not repair or maintenance.
Back during the time when I was out of work I had located a New Old Stock BAE turbocharger kit, but had to sell it due to the lack of a job. Now I'm thinking about an Eaton M62 Supercharger setup or equivalent, with either Tec3 or Megasquirt engine management.

And that stuff will get installed on a freshly rebuilt Eagle Premier 3.0L PRV. I just acquired the motor, which is still sitting in the Eagle. I will be yanking it and starting on a rebuild this winter. I'm planning on taking this slowly, like two or three years, so the updates on the stock motor won't be wasted.
Other De Lorean Links
Other Automotive Links

Back to Mark & Joyce's Personal Home Page
Back to Buffalochips.Org Home Page
Last modified: September 03, 2009
Please note that I spelled De Lorean with and without the space in various places above. This was done so that search engines would pick up both spellings. With a space is correct, but most people don't use it.