Under Construction



SCCA Solo II is one of the true grassroots motorsports. It is also known as Autocross, or gymkhana. It's a skills contest involving just a single car on the course, rather than true wheel-to-wheel racing. This makes it much safer than other forms of racing and allows you to run your street car against other similar makes and models. It is very safe, and at the lower levels is very inexpensive. Even at more competitive levels it only costs a few hundred dollars for a whole season of racing.
An Autocross is a run against the clock involving a single car running a course laid out on a parking lot with orange construction cones. A typical course involves lots of twists and turns as well as things like slaloms. Speeds rarely get over 70mph, and most of the course is actually done at speeds of more like 30-40mph. But even though the top speed is slow it's still a lot of fun! To post a good time you have to push your car (and yourself) out to the limit. You are literally sliding through a lot of these turns!
Visit the SCCA's Home page for more info!
We are currently living in Utah and run with the Utah Region-SCCA. Prior to moving here we lived near St. Louis and ran with the St. Louis Region and the Southern Illinois Region.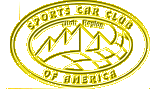 Check out pictures from the May 4th, 1997 Event at Wentzville, Missouri
Racing and Motor Sports Links
Last modified: February 9, 2002